Invisible
The best display stand is the one that you simply don't notice. Our crystal clear acrylic display stands are so well designed, so precisely manufactured, and so beautifully finished...they virtually disappear!

"They're perfect for various types of lacy sandwich glass since
they enhance the intricate patterns."
Roger Bennett, author, Early American Glass 1825 to 1890
Strong
Their wide-foot design is steady and sure. They're injection-molded in one piece for virtual indestructibility. The edges are rounded and smooth, and the flat surfaces are clear and flawless. We craft them with consistent quality, care and pride.

"We have been using your plate stands for several years and find them to be the best on the market."
Mark Allen, Mark & Marjory Allen Antiques
Manchester, New York
Popular
Our plateholders have been used by museums, galleries, antique dealers, and private collectors for over 25 years. To our minds, there could be no better testimony to their quality, beauty, and security.

"We love these plateholders. We've been using them for at least six years to display china and framed pictures. Our clients ask for them and use them, too."
Florence Durfee Interiors
New Canaan, Connecticut
Guaranteed
Our promise is to produce the finest display stands in the world. If you don't agree that these display stands fulfill that promise - or if you are for any reason dissatisfied - we will gladly replace your order or refund your full purchase price.

"An indispensable accompaniment for the display of porcelain."
Ambassador Joseph V. Reed, private collector
Greenwich, Connecticut
Ordering
We now take online orders! Just fill out the quantities in the boxes under each product on this page. In use by museums, galleries, and serious collectors for 24 years, our holders are sturdy, safe, and crystal clear, virtually disappearing when displaying the finest pieces in your collection. They are available in four sizes to hold the smallest demitasse or daguerreotype to the largest platter or book. Visit our Contact page for more information or to order by phone, fax, or mail.
Our Products: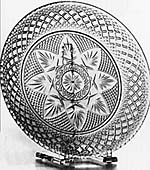 Large Plateholder, $55 per dozen
5 ¾" Tall, Holds Plates 6"-12" in Diameter, 2" Deep.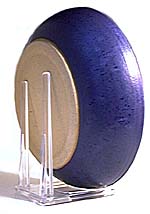 Platterholder, $79 Per Dozen, $15 Per Pair,
for platters, large plates, and books up to 4" deep.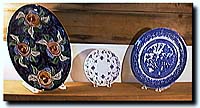 Small Plateholder (center), $38 Per Dozen
3 ¼" Tall, Holds Saucers &
Plates up to 6" Diameter, 1 ½" Deep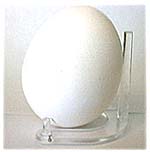 Miniature Plateholder, $12 Per Dozen,
1 ½" Tall, for demitasse or display.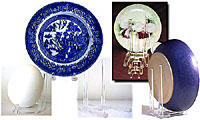 Sampler - $50.00
Includes 4 Large, 4 Small, 4 Mini Plateholders and 2 Platterholders